If you've ever suffered from chronic headaches or migraines, you know how debilitating they can be. These conditions are not only difficult to deal with, but they can also be very challenging to treat. Often, prescription medications are ineffective or may come with a host of unpleasant side effects as problematic as the headaches themselves. With that in mind, more and more people are looking into the use of cannabis for the treatment of headache pain.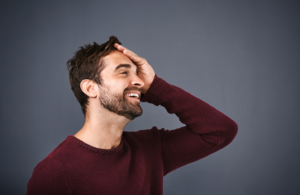 A 2019 study published online in the Journal of Pain, was the first to use big data from headache and migraine patients using cannabis in real-time. The study led by Carrie Cuttler, a Washington State University assistant professor of psychology, found inhaled cannabis reduces self-reported headache severity by 47.3% and migraine severity by 49.6%.
Not sure if cannabis is the right treatment for you? Here are five ways cannabis can help mitigate common migraine and headache symptoms:
1. Cannabis contains anti-inflammatory compounds. Migraines are linked to excessive brain
inflammation, and the anti-inflammatory compounds THC and cannabidiol (CBD) are unique to
cannabis. Scientists are still studying their use as anti-inflammatory drugs.
2. Cannabis can be useful for pain relief. One of the primary reasons many patients seek medical
cannabis prescriptions as an alternative to prescription drugs for the treatment of chronic pain.
3. Cannabis can lead to nausea relief. People who experience migraines often battle accompanying nausea in addition to other troubling symptoms. Medical cannabis is commonly inhaled or consumed orally to ease nausea, thanks to its strong antiemetic properties.
4. Cannabis is a mood booster. Migraine patients sometimes suffer from associated mental health ailments like depression, mood, and personality disorders. Cannabis compounds are known to engage with serotonin, and in low doses, boost levels leading to mood elevation.
5. Cannabis can act as a sleep aid. If migraine pain leads to sleep disturbances, cannabis could offer the relief you've searched for. Research shows it can help people fall asleep faster and stay asleep longer.
Research about the effectiveness of cannabis for headache pain is ongoing, and that data is increasingly promising. In a study published in Pharmacology that examined the effects of medical cannabis on 121 migraine patients, the research found that medical cannabis reduced the average number of monthly headaches from 10.4 down to 4.6, a marked improvement.
If you suffer from chronic headaches and migraine pain, contact Emerald Health Advocates for an evaluation to see if a cannabis prescription is right for you.
Emerald Health Advocates
Phone: (240) 477-8158