Cooking with cannabis is a great way to get all the health and medical benefits in a manner that is enjoyable and tasty! If you are new to using medical cannabis and curious about how cooking with this popular herb can help you, keep in mind that edible cannabis is currently used to address a number of symptoms, side effects and conditions, including insomnia, nausea, eating disorders, inflammation, and anxiety. Here are some simple guidelines if you'd like to begin incorporating cannabis into your diet.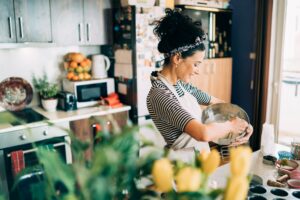 Choose the right recipe
The first step to including cannabis in your cooking is to begin with some basic recipes that are easy and palatable. Look for simple recipes that include some type of fat, such as olive oil, butter or coconut oil. This is important because cannabinoids are drawn to fats and oils which allows the THC and other compounds to become active. Consider:
· Salads drizzled with an oil-based dressing
· Pasta ladled with oil-based sauces
· Waffles or pancakes
· Smoothies infused with coconut oil
· Baked potatoes topped with butter
Select your strain
It might surprise you to learn that cannabis strains come in an array of flavors, also known as terpenes. As you think about your recipe, look for terpene profiles to complement it. Here are some common terpene choices:
· Limonene (citrus)
· Myrcene (herbal mix with tropical notes)
· Caryophyllene (closes and spices)
· Pinene (pine nuts)
· Nerolidol (jasmine and ginger)
Grind your cannabis before adding it to recipes
You should always grind the cannabis for the best taste and results. No one wants to bite into a delicious brownie only to choke on a cannabis stem. The other benefit is that grinding your cannabis will allow it to release the THC and other compounds and give your dish a uniform taste and texture.
Use the correct temperature
When cooking with cannabis try to avoid high heat because it can degrade the THC and other desired compounds. Most experts recommend a heat between 200F and 250F degrees to preserve the medicinal benefits.
Always weigh and measure
Cooking and baking successfully is all about weights and measurements, and cooking with cannabis is no different. Using accurate measurements can help you achieve desired results that are consistent and reproduceable when making future recipes.
Practice makes perfect
Just like with other types of cooking, learning to cook with cannabis involves some trial and error. However, the effort is well worth it if you are curious about all of the myriad ways medical cannabis can benefit your health and wellness. Contact Emerald Health Advocates for more tips, recipes, and information about medical cannabis.
Emerald Health Advocates
Phone: (240) 477-8158