Today, opioids are being abused across the world. The United States specifically is losing more Americans to drug addiction and misuse than at any other time in its history. There is an incredible sense of urgency to find viable alternatives to pain reducers. One promising alternative is medical marijuana. Let's take a closer look at whether medical marijuana can replace prescription opioids as the drug of choice in fighting pain, and if it can make a positive difference in this nationwide epidemic.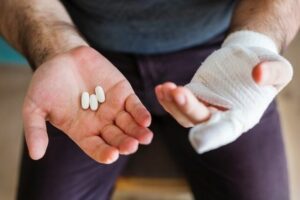 Marijuana Pain Relief
Research on marijuana's effectiveness in treating pain gives cause for cautious optimism. Studies have found that marijuana helps with nerve pain, cancer pain, and chronic pain associated with multiple sclerosis. A small study also found that marijuana helped individuals with fibromyalgia deal with the joint and muscle pain associated with the condition. The bottom line is that the drug shows promise for a wide range of pain-related conditions—though in some cases those benefits are relatively modest.
Marijuana Reduces Opioid Reliance
In the past few years, marijuana has done more than prove to be a reasonably effective treatment for chronic pain. It's also helped many people transition off of opioid dependence. Several recent studies over the past eight years have found that when marijuana becomes legalized for medical use in a specific state, that state's opioid use levels decline.
A 2018 study, for example, looked at prescription data from 2011 to 2016. Researchers found that in the years following the legalization of marijuana, states had a six percent decrease in the number of opioid prescriptions. It's not unreasonable to assume that this data suggests thousands of patients stopped taking opioids and turned to marijuana for their pain once it became legally available.
Solidifying the connection between access to medical and recreational marijuana and opioid misuse and overdoses will take more time. But it seems clear that marijuana is a dramatically safer alternative to opioids for many people dealing with pain. To reap these benefits for yourself, contact our office and set up an appointment. We can discuss which options are best for you and your pain.